Construction of new crematorium on schedule for completion this summer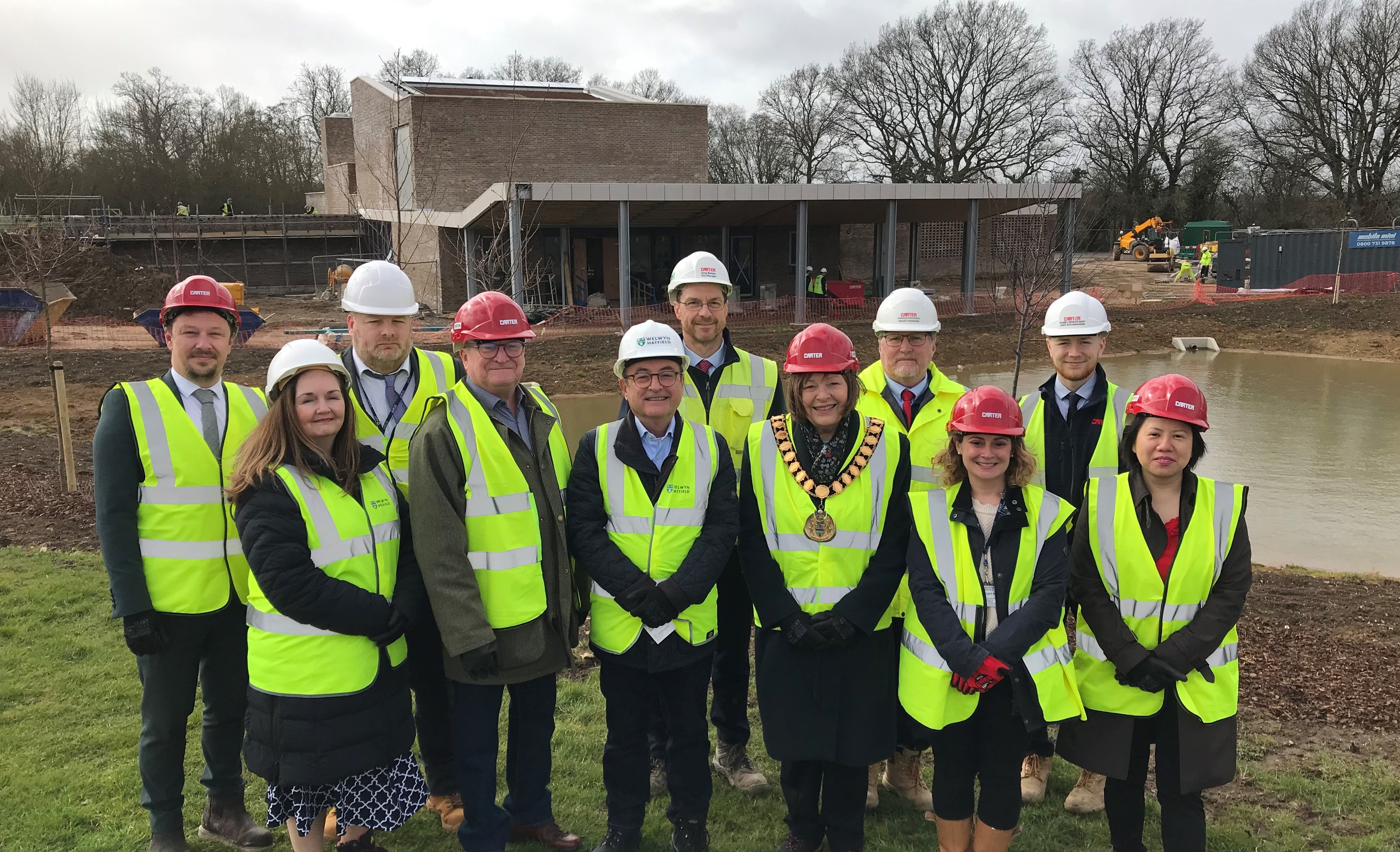 Construction of the new crematorium at Oak Hill Lawn Cemetery and Crematorium in Hatfield is well underway with the crematorium, the first in the borough, on schedule to open this summer.
The Mayor of Welwyn Hatfield, Councillor Barbara Fitzsimon joined the Leader of the Council, Councillor Tony Kingsbury, Councillor Terry Mitchinson, Executive Member for Leisure and Community, WHBC Chief Ka Ng and members of WHBC Senior Leadership Team for a tour of the bereavement complex.
Welwyn Hatfield Borough Council identified the need for improved cremation services to address increased waiting times and distances required to travel to existing local crematoriums. The new development provides a larger chapel and provides facilities for both burial and cremation funeral services. The chapel will also serve as a space for remembrance services throughout the year.
The existing buildings at the entrance to the cemetery have been replaced with new landscaping and areas for burial. The bereavement services team will be based at the new complex which includes a reception and meeting spaces so we can meet our customers' needs.
Councillor Tony Kingsbury said:
I was impressed to see the progress that is being made with the construction of the new crematorium. Our intention from the outset has been to avoid the one size fits all approach that characterises many new crematorium developments. We also wanted the character of the complex to be reflected in a design that sits comfortably in its context and respects the dignity of the occasion. From what we saw today, we have most definitely achieved all of this and more.

The new building sits below the tree line when first viewed, minimising its impact on the openness of the greenbelt. When visitors enter the site and reach the top of the ridge, rather than finding themselves amongst a group of buildings as they used to do, they are now in an open area, landscaped with new planting and trees. This newly revealed vista provides long views across the cemetery and the valley beyond.
Find more information about the new crematorium or email propertydevelopment@welhat.gov.uk