Remembrance Sunday services in Welwyn Hatfield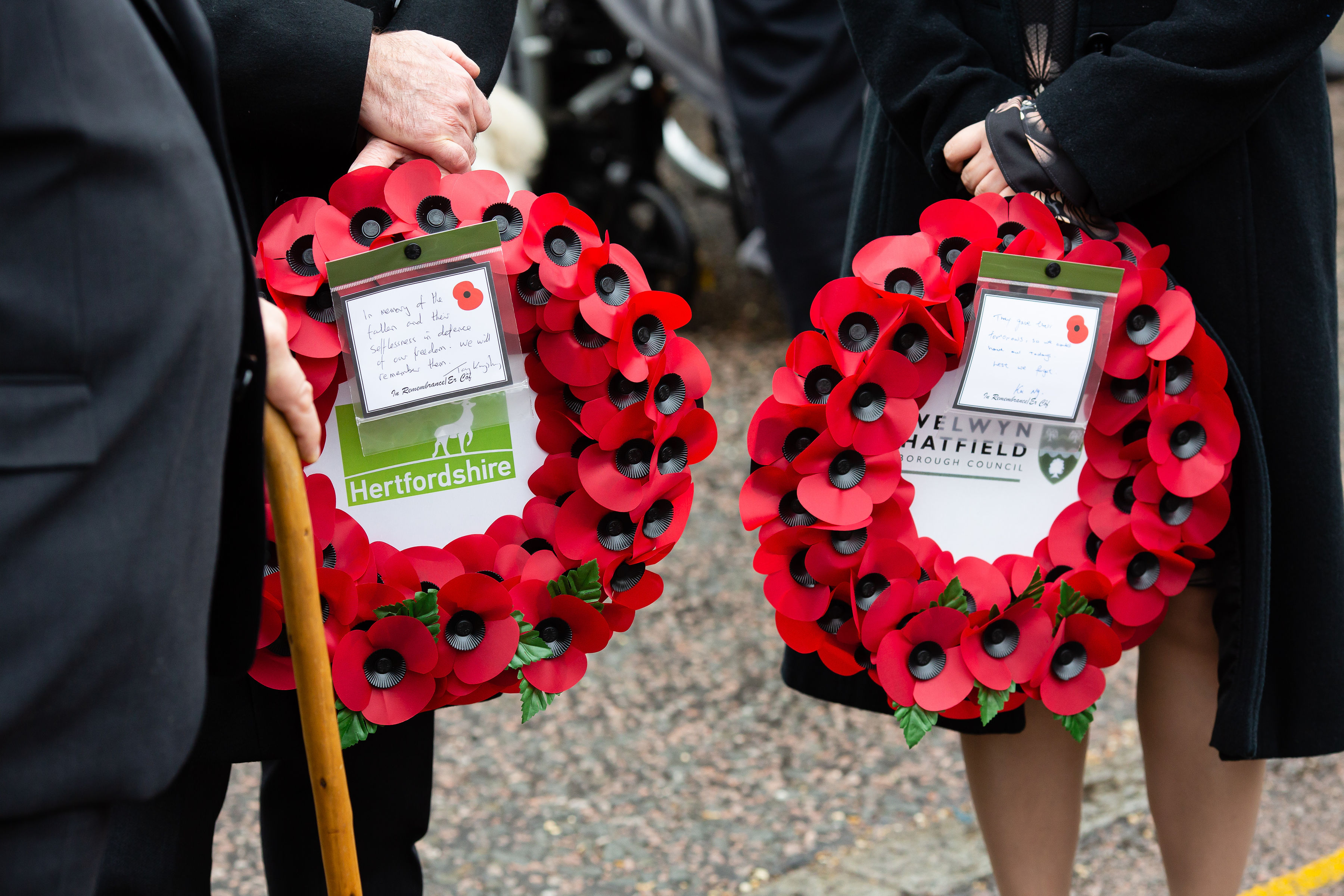 Remembrance Sunday will be commemorated by special services held in Hatfield, Welwyn Garden City, and Welwyn village on Sunday 12 November.
The Mayor of Welwyn Hatfield, Councillor Pankit Shah, accompanied by Welwyn Hatfield Deputy Leader, Councillor Lynn Chesterman OBE, Welwyn Hatfield Borough Council Chief Executive, Ka Ng, and Service Director (Resident and Neighbourhood), Sue McDaid, will be attending a service at the War Memorial, Howardsgate, Welwyn Garden City at 10.50am.
The parade to the War Memorial will start from The Campus roundabout at 10.30am. Representatives from all the services, ex-servicemen and women and youth organisations will be in attendance and the Welwyn Garden City Band will play at the service.
In Hatfield, a service will be held at the Memorial Garden next to the Hatfield House gates (opposite Hatfield train station). Arranged by Hatfield Town Council, Hatfield Town Mayor, Councillor Gareth Aicken will be attending, along with the Leader of Welwyn Hatfield Borough Council, Councillor Paul Zukowskyj, Deputy Mayor of Welwyn Hatfield, Councillor Frank Marsh, and Executive Director (Finance and Transformation), Richard Baker.
Following safety concerns Hatfield Town Council has moved the parade off road. Instead of marching down the Great North Road, the parade will now start at the front of Hatfield House and make its way to the Memorial Gardens through the Park. Those wishing to watch the parade can do so by making their way to either the Stable Yard Gate or Station Gate entrances to Hatfield Park, where they will be directed prior to the parade. The parade will start at 10.30am and representatives from all the services, ex-servicemen and women and youth organisations will be in attendance.
In Welwyn, the wreath laying will take place at the war memorial at 10.50am and will be followed by a parade to St Mary's Church for a short Service of Remembrance.
There will also be a service at Hatfield Hyde. The procession leaves St Mary Magdalene Church at 2.50pm, with the Service commencing at the memorial at 3pm. This will be attended by Welwyn Hatfield Borough Mayor, Councillor Pankit Shah accompanied by the Council Leader, Cllr Paul Zukowskyj, Deputy Leader, Cllr Lynn Chesterman OBE, and Chief Executive, Ka Ng.
Councillor Shah said:
I am proud to represent the borough as Mayor and stand alongside the courageous men and women who fought for our country in past and present conflicts across the world. It is important that we take time to remember all those who have served and those who continue to serve their country.