Grant Shapps MP visits Mill Green Museum and Watermill to mark the start of English Tourism Week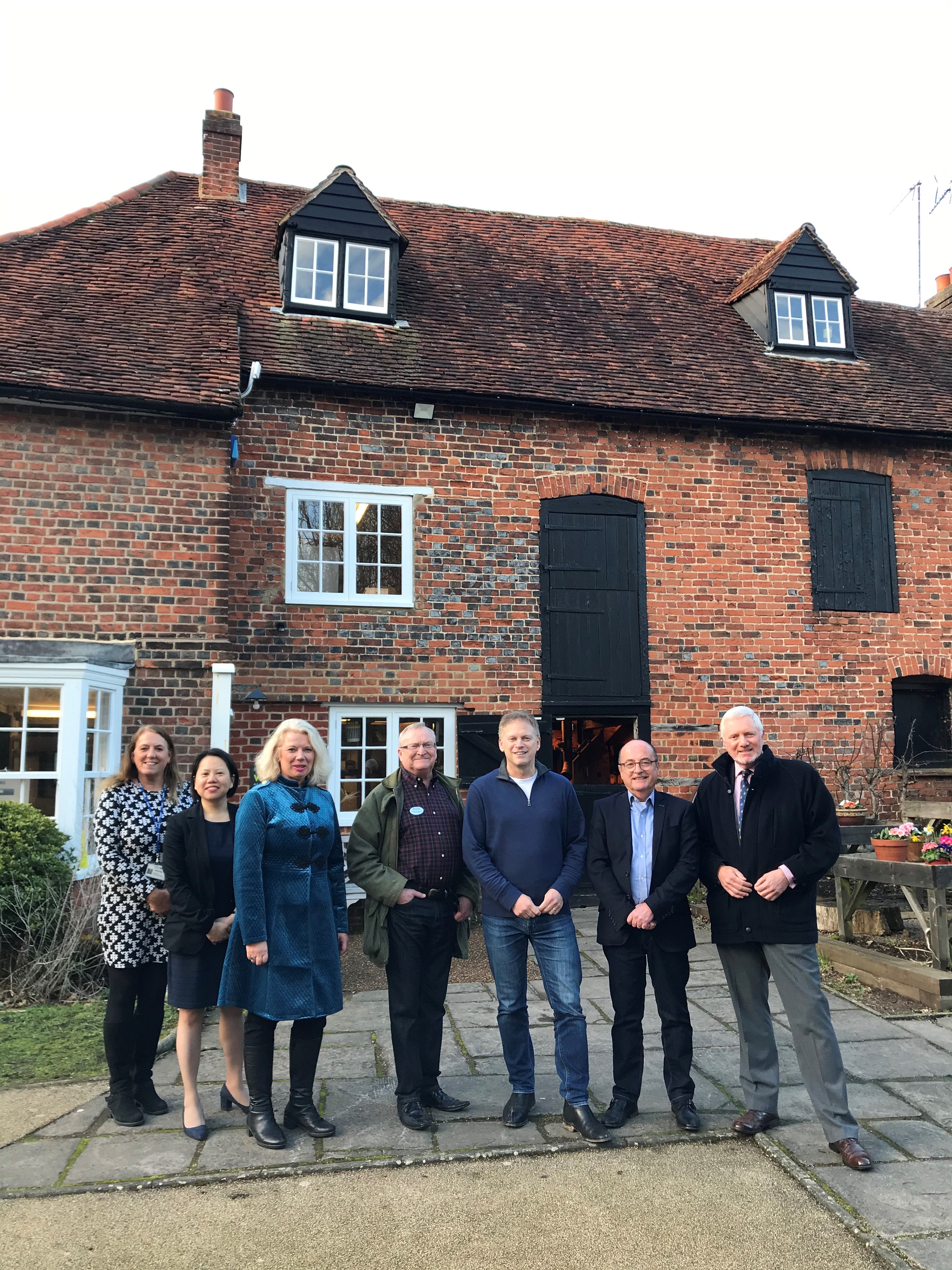 Local MP, the Rt Hon Grant Shapps was given a tour of Mill Green Museum and Watermill to mark the start of English Tourism Week (17 – 26 March).
The Mill, which is owned and run by Welwyn Hatfield Borough Council (WHBC), is a restored 18th Century working watermill, harnessing the power of the river Lea to grind grain into flour.
Grant Shapps was able to see the Mill in action before being given a tour of the current exhibitions, '1,000 years of milling' and 'Panshanger Park' which explores the hidden history of the historic park and garden. He then got to sample the delicious cream tea and scones which are made with flour fresh from the Mill.
The theme of this year's English Tourism Campaign is 'Celebrating amazing experiences and amazing people' which comes on the back of a report by Visit Herts which has found signs of recovery for tourism in Welwyn Hatfield and Hertfordshire. The Visit Herts report found that in 2021, the value of the Welwyn Hatfield's visitor economy increased to more than £147 million, a 34% growth from 2020. The research also revealed that more than 1.6 million combined day and overnight trips were undertaken in Welwyn Hatfield with the number of tourism jobs across the Borough increasing by 8% on 2020 to 2,963 jobs, accounting for 4% of total employment.
Grant Shapps was joined the Leader of WHBC Council, Councillor Tony Kingsbury, Councillor Terry Mitchinson, Executive Member for Leisure and Community, Visit Herts CEO Deidre Wells, Chair of Herts LEP and the LEP Network, Mark Bretton, WHBC Chief Executive Ka Ng and members of WHBC Senior Leadership Team for a tour of the Mill.
Councillor Mitchinson said:
"It is extremely encouraging to see the signs of recovery to our tourism sector which is such an important part of our local economy. We are very fortunate in Welwyn Hatfield to have so much to offer visitors, from Mill Green Museum to our Roman Baths, Stanborough Lakes and Hatfield House. The current exhibitions at Mill Green Museum and Watermill are a fascinating glimpse into our history for adults and children alike. I would encourage everyone to visit Mill Green Museum and Watermill which we are so lucky to have on our doorstep."
Visit Herts CEO Deidre Wells said:
"Tourism is worth £100bn to the English economy and English Tourism Week is all about rediscovering hidden gem attractions such as Mill Green Museum and Watermill. A programme of events will be taking place across the country to raise awareness of the size, value, and importance of tourism to our local, regional, and national economies. The theme of this year's event, Celebrating amazing experiences and amazing people, highlights the role played by the wonderful people working in the sector and how they ensure visitors have amazing experiences and add to the vibrancy of local communities."
More information on Mill Green Museum and Watermill and its exhibitions and events can be found here