Civic Awards 2023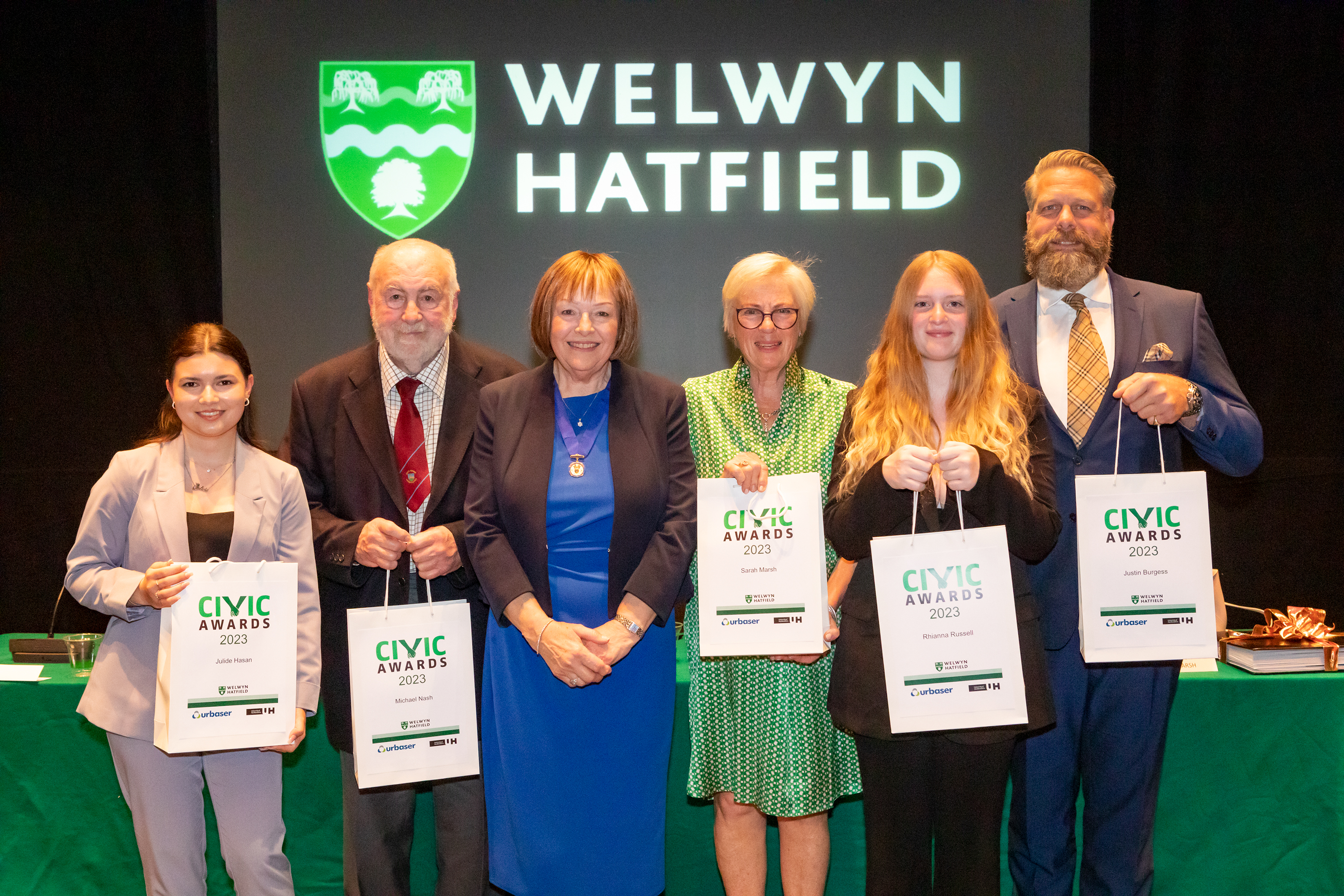 The inspirational achievements of local people were celebrated at the Annual Council Meeting on Monday night (22 May), with the announcement of the Civic Awards 2023 winners.
The new Mayor of Welwyn Hatfield, Councillor Pankit Shah, invited his predecessor Barbara Fitzsimon to announce the awards, which celebrate achievements in mentoring, supporting and helping others.
This year the awards – now in their seventeenth year – were given in partnership with Urbaser and the Young Person Award was sponsored by the University of Hertfordshire for a recipient under the age of 21.
The winners were:
Justin Burgess – Civic Award – in recognition of his outstanding contribution to the Welwyn Hatfield community and also through the charity he created called JOCA (Just One Click Away). Justin created JOCA to tackle the rising cases of depression in the UK, mainly in young men, through providing counselling, support and guidance, all of which was utilised by many people throughout the pandemic.
Rhianna Russell – Civic Award – in recognition of the outstanding success Rhianna achieved representing Welwyn and District Bowls Club and England. In 2022, Rhianna reached the national finals at Leamington Spa, the home of the Birmingham 2022 Commonwealth Games. She helped club members reach the quarter finals and went on to be crowned Ladies National Two Bowl Singles Champion 2022.
Michael Nash – Civic Award – in recognition of the work Michael has undertaken over 65 years for different football clubs in the Welwyn Hatfield borough as a player and a referee.
Sarah Marsh – Environmental Award presented by Urbaser – in recognition of the work Sarah has undertaken with the gardening and planting design of Danesbury Fernery. The Fernery has benefitted from Sarah's expert horticultural knowledge to show off its wonderful heritage garden to full affect and enable the Fernery to open under the National Garden Scheme later this year.
Julide Hasan – Young Person Award – presented by the University of Hertfordshire – in recognition of Julide's contribution to the University of Hertfordshire Law School. Julide has made a fantastic contribution to pro bono at Hertfordshire Law School. Alongside studying for her Law degree, Julide volunteers in the Hertfordshire Law Clinic that enables members of the public to obtain one-off legal advice in a range of areas including employment, family and housing law.
The winners each received a crystal engraved trophy, a certificate, a cheque for £250 and a place in the Civic Awards Roll of Honour, recording their achievement for posterity.
The Mayor, Cllr Pankit Shah, said:
Once again we've had an amazing set of nominees and the winners here today are awe-inspiring. To support others so selflessly in the way that they all have is something we can all learn from and I couldn't be happier to be shining a light on their heroics, with the recognition they truly deserve.
Photographed left to right are: Julide Hasan, Michael Nash, Barbara Fitzsimon, Sarah Marsh, Rhianna Russell and Justin Burgess.