Oak Hill Lawn Cemetery and Crematorium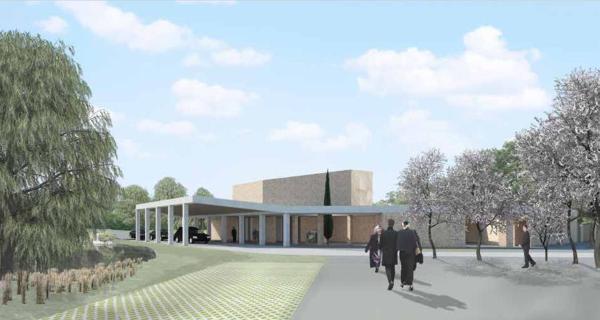 Founded in 1984, the Lawn Cemetery provides burial and memorial services. Construction has recently commenced for a new crematorium, the first in the borough.
The development will:
provide a new larger chapel for burial and cremation funeral services
combine facilities for both cremation and burial services
serve as a space for remembrance services throughout the year
replace the existing buildings at the entrance to the cemetery with new landscaping and areas for burial
maintain safe access to the cemetery for visiting members of the public during it's construction
continue to allow visitors to visit existing gravestones (during the current hours of operation)
The Bereavement Services Team reception will be located here, making access to staff easier and improving facilities for visitors.
The design of the new development:
aims to avoid the one size fits all approach that characterises many new crematorium developments
reflects the context and respects the dignity of the occasion
will sit below the tree line when first viewed from the entrance, minimising its impact on the openness of the greenbelt
When visitors enter the site and reach the top of the ridge they will be in an open area, landscaped with new planting and trees. This new vista provides long views across the cemetery and the valley beyond.
Crematorium construction update:
Spring 2023
An application to vary the Part B Environmental Permit has been submitted and is open for conultations between 27 February and 24 March 2023.
Autumn 2022
Works are still on schedule to be finished in Spring 2023:
The main structure of the Bereavement Centre is now in place after a busy and productive summer by our contractors, R G Carter.
The chapel brickwork is almost complete, and a green roof has been installed.
The external area brickwork is expected to be complete by Christmas.
The mains gas, water and electric ducts are being installed.
First fix electrics have commenced and the cremator has been delivered ready for installation.
All of the former chapel, lodge and workshop buildings have been demolished and the area fenced off.
The demolished area has been returned to topsoil and is intended to be used as additional burial space as well as landscaped spaces and gardens.
The wood panelling is in on the internal structure, providing more of a finished feel.
Please note entry and exit to the cemetery is now along the roadway running along the top part of the site which has been made two-way for all traffic.
For the full update view the Winter 2022 newsletter.
For more information contact propertydevelopment@welhat.gov.uk.
Previous updates: